Due to the high competition in social media, it is important to not only provide the quality of your content, but also its presentation to get user's attention. And vertical video is a great option to attract attention to your social media feed.
We all know how the video works. Everyone can probably remember how all attention gets stuck on social media GIFs or YouTube videos.
Nowadays, you do not need to hire a professional video designer to revitalize your social media. With online vertical video editors, you can create videos quickly and without any special skills - free or fairly inexpensive.
In our comparison, we analyzed services to help Internet marketers, content creators, vloggers, news crews, videographers, brands to create better vertical videos for Facebook and Instagram stories.
Tappable Vertical Video Converter
Tappable's goal is developing a platform that can apply the Instagram Stories format to any content using the open-source Google-friendly Web Stories framework. Tappable Stories, in essence, are websites that look and feel like Instagram Stories.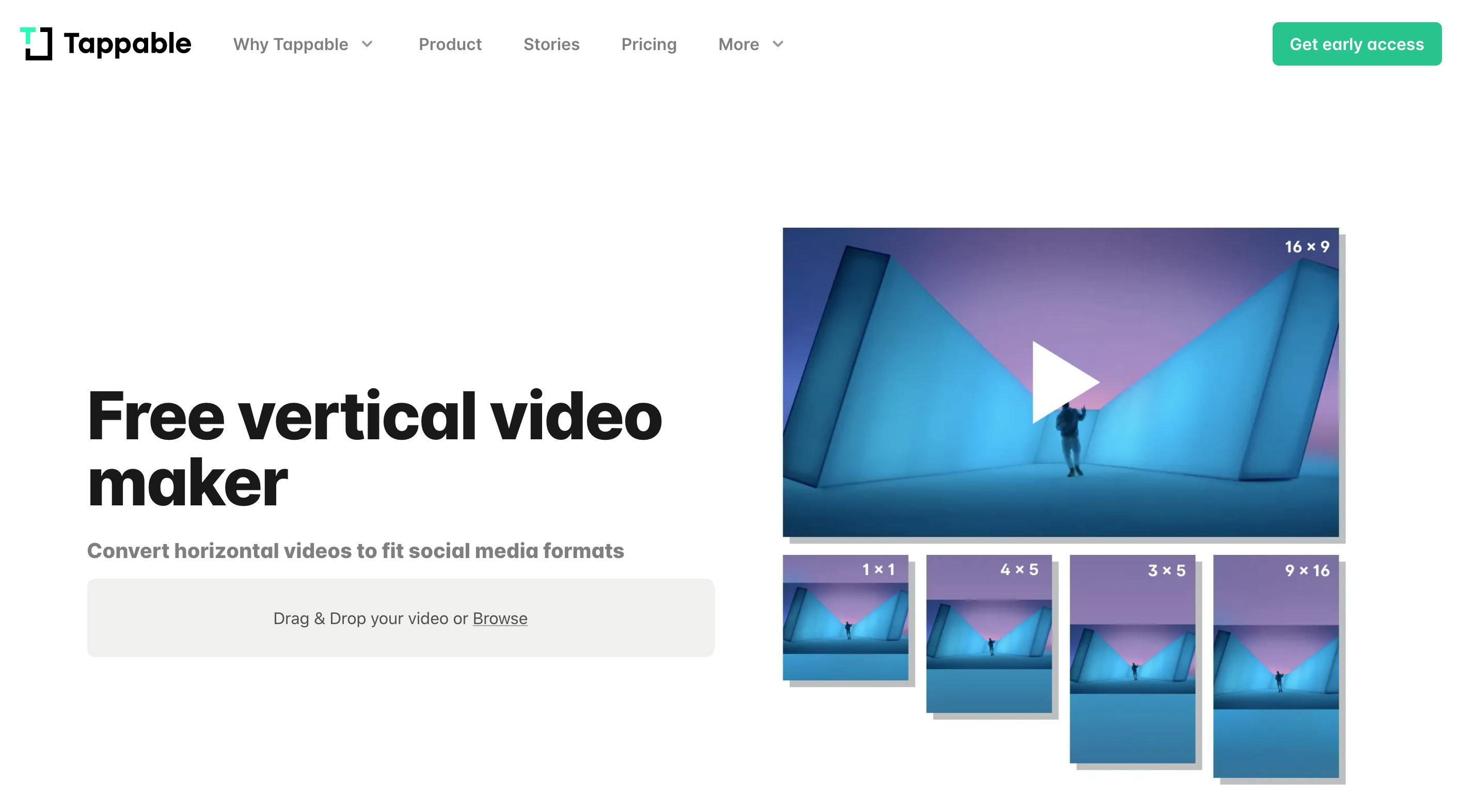 While developing the platform, we found that the available online tools for creating stories-friendly vertical videos actually do not meet all the needs of social media users and provide the required minimal functionality only in their paid versions.
The most common problem is what a user founds that output video is distorted by a watermark and he/she has to pay to remove it (which was not warned in advance, when engaging the user to). And services do not warn users about this in advance, before uploading a video. We think that this is wrong. Therefore, we created a tool that really provides all the necessary functionality for adapting videos to Instagram and Facebook without paying to get your output video in excellent quality.
You can use the vertical video maker to convert and resize your videos to fit your different social media needs.
Converting is extremely easy:
upload your original horizontal video (max. 30 sec and 100MB) in whatever format you have it;
check up to 4 formats for output video (1080*1080, 1080*1350, 1080*1920);
after a few minutes you'll receive an email with the your converted video attached;
We believe that this tool can help marketers, content creators, vloggers, news crews, videographers, and brands to create better stories for social media.